How to easily create a "day-to-night" look!
We are always looking for quick fixes; easy ways to do things as well as wanting to get the most out of things; ensuring value for money.  And that should mean in your wardrobe too!
When you want to get more "££s per wear" out of your garments, you have to make the items in your wardrobe work harder for you.  So it's important that you have items which you can wear by day and then 'style up' for a night out.
Let me show you how!
In all the photos, I am wearing a pair of soft black eyelet jeans and a turquoise sparkle knit top.
Here's how I've styled them:
In the relaxed day look, I've popped on a pair of flip flops and a casual turquoise jacket.  Alternatively, I might wear a pair of trainers and a white jacket.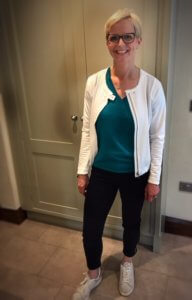 Both these looks are relaxed & casual for going about your day.
I can transform either of the "day" outfits into something snazzy for a night out by adding accessories: a long necklace and matching earrings, a pair of killer heels and a sparkly clutch! And I'm good to go! Mine's a G&T please!
Do you make your wardrobe work hard for you?
Have a look at the outfit combinations that you could create and enjoy wearing more of what you've got!  And if you need help or inspiration, please just get in touch.
[All clothing featured is from the Captain Tortue SS19 collections and available to order.  Just
contact
me to see, try or buy!]