With all the excitement from a fantastic evening, we realised that we hadn't written a blog about the incredible Woo Hoos!
So, better late than never!
It was the 2nd year of this fabulous event, held in the marquee at the Mercure Noke Hotel, St Albans on Wednesday 27th June and it was every bit as brilliant as our first ever year.
The Woo Hoos were created as an achievement evening – to celebrate the amazing achievements of business owners in St Albans.
There are no judges – it is simply down to being nominated. If someone thinks you deserve a pat on the back for what you've achieved in business, then we want to celebrate that.
We did give some ideas on the kind of things people may want to nominate for:
Stepping out of their comfort zone
Going for it
Going global
Overcoming hurdles
Making a difference
Community spirit
Going above and beyond
We had 40 "winners" and 40 "presenters".
40 stunning white pineapples (the achievement "awards" themselves supplied by the gorgeous Emma Bustamante of Cositas on Holywell Hill) were lined up and ready. Including a very special pineapple sponsored by June Cory and the team at My Mustard
A glass of prossecco on arrival, chit chat, catching up and meeting new people before sitting down to be entertained by the incredible David Jenkins of the Pauline Quirke Academy and Neil Barass-Smith of Total Legacy Care, who really got into the spirit of it all by sporting the best pineapple suits ever!
It was a fantastic night, hearing from the presenters as to why people had been nominated. And then hearing from the "winners" themselves – it truly was incredible and inspiring to see what people are achieving with their businesses, the drive, the determination and the comradery.
We had fab tunes from Adam Shilston at My Local DJ who did incredible well at keeping up with our change of running order, but still making sure that the right track was played for the right "winner" – we had tracks themed to the winners which was fun.
And Monir Ali of Little Big Ego took the fabulous photos again – doing a great job as always.
Here are just a few of our lovely "winners":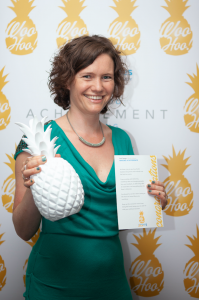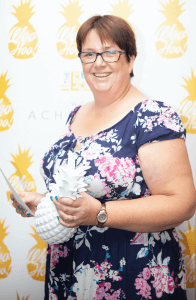 Get Wednesday 19th June 2019 in your diaries for 2019's Woo Hoos! Book your tickets HERE
Find out more about Sponsorship Opportunities at 2019 Woo Hoos HERE