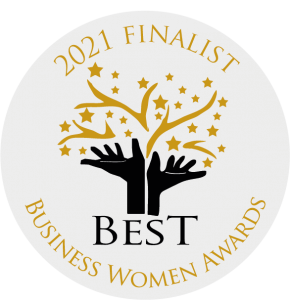 Local businesswoman Susan Heaton-Wright of SuperStar Communicator from Digswell, Hertfordshire has been shortlisted as a finalist in the Business Services Award.
SuperStar Communicator empowers individuals and teams to make a positive impact in all business conversations. Using the SuperStar Communicator™ Methodology, the company consults, coaches and trains globally on a number of spoken communication and soft skills topics, with virtual and face to face workshops, masterclasses, coaching and e courses. As well as multi-national companies such as Microsoft, Shell, Deloitte, Invesco and Quintiles, SuperStar Communicator works with Professional Services firms, Professional Associations and is a consultant for VR training in surgery skills with a company in Italy.  Since March 2020, SuperStar Communicator has trained attendees from over 60 countries to be SuperStar Communicators and to make a positive impact when speaking.
The Best Business Women Awards have announced their finalists for 2021 and this is an amazing line up of incredible business women from across the globe.
Pushing through the pandemic, these women continued to drive their businesses forwards.  The judges were impressed of the creativity, tenacity and great business acumen demonstrated in the finalists selected . The Best Business Women Awards are designed to recognise the achievement of those women across a wide range industries.
 Debbie Gilbert, organiser of The Best Business Women Awards said:
'The 7th year of these prestigious awards has proved to be the most challenging for business owners worldwide. The entries were judged by a panel of business experts who had a tough job reading hundreds of entries. To be a finalist in this competition is a major achievement and a mark of quality. All our finalists either win a Silver or Gold Award. The businesswomen selected have been chosen for their business acumen, determination, creativity, and tenacity. All our finalists are all shining examples of being successful entrepreneurs who have proved their success to our judges.'
Susan Heaton-Wright, founder of SuperStar Communicator said:
"To be shortlisted for this award with other incredible businesswomen is a true honour. To receive this recognition after the most challenging 18 months is amazing. Thank you"
The Gala Final will be held at the Hilton Wembley on 15th October where the Gold Winners of each category will be announced.
SuperStar Communicator owner and founder, Susan Heaton-Wright is available for further comments on 01438 718 509 or email susan@superstarcommunicator.com
Website: www.superstarcommunicator.com