We love getting to know the people behind the businesses in this amazing city. We caught up with Amy and Terry of Wacky Bouncers to find out more about what they do:
What prompted the start of Wacky Bouncers?
My partner and I started the business 3 years ago. We are parents to 4 children and so already knew the basics of entertaining children. We found through our experience that all children love Bouncy Castles and Soft Play. We decided to start Wacky Bouncers where we would have a vast range of various inflatables to choose from and unlike most of the companies that we previously used, we vowed to work differently. We vowed to keep our expectations high and standards even higher. Our quality Inflatables and products are always hired out in a clean condition, we have a 100% reliability rate and our customer service is fantastic.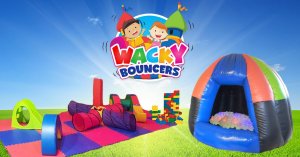 What does your business offer its customers:
We hire a wide range of products including Bouncy Castles, Soft Play, Giant Garden Games, Fun Foods and Hot Tubs.
What kind of customers do you work with?
Our services are offered to all age ranges including adults.
What's the toughest part of running your business?
The toughest part of running the business is probably the fact we run the business by ourselves and having 4 children of our own can be very challenging at times!
What piece of advice could you give to other business owners?
The best advice I could give to other business owners is that communication with your customers is a huge key point. For an example if you're running late for a delivery even if its going to be one minute late then let the customer know. Communication goes a very long way.  We have now achieved 98 five star google reviews which is a huge achievement for us and this is all because our customer service is outstanding. This is a very high number of five star reviews compared to all our other competitors.We are looking forward to getting reaching 100 5 stars.

Get in touch with Amy and Terry to book lots of fun the whole year round at www.wackybouncers.co.uk
Follow them on instagram here